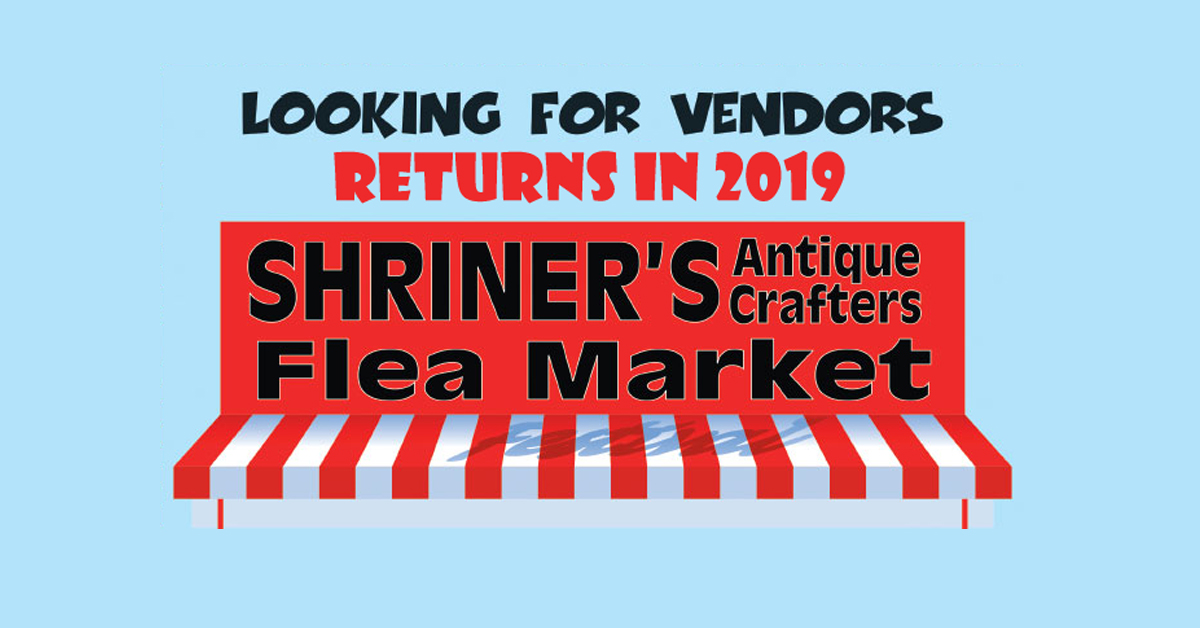 The Shriners Antique & Crafters Flea Market is back in 2019 and continues every FIRST Sunday of the month June through October, rain or shine!
Our first market kicks off in June this year and continues every FIRST Sunday of the month through October. It is a Fundraiser for the Pittsburgh Syria Shriners Temple and for the Units, Clubs and Caravans that help and participate.
We're looking for visitors, crafters and flea marketers of all types. Stalls are $25 a month for a 24" x 20" booth area. The Market runs rain or shine, hopefully it shines!
Buy a season package for $100

, save 20% on your space for the season and get guaranteed spot!*
The Shriners Antique & Crafters Flea Market is the creation of Flea Market Chairman and Syria Shriner Dennis Conrad.
What You'll Discover at our Flea Market
"Our event is for anybody who gets a kick out of flea markets. We're hoping to serve people who are looking for unique historical items, crafts, tools, paintings, we'll have people who make jewelry, another person will have Swarovski crystal. Basically, it's for people who are looking to buy or sell items at a bargain. Sometimes you find what you're looking for and sometimes not. This is more than a craft show. People are bringing someone else's treasure."
For vendor inquiries, please contact Peg McKillop at 724-274-7000
or email Peg at mmckillop(at)syriashriners.org
Dennis says another popular item is collectible die-cast cars. Dennis himself is a collector of Texaco die-cast cars and trucks. He visits the Fleatiques at Tour Ed Mine and Museum in Tarentum almost every month. "My wife likes flea markets. She collects depression glass," Dennis said. His daughter collects china.
Vendors and visitors will find they're set up on asphalt, no fields or lawns. There is ample parking, and indoor restrooms (as opposed to no facilities!)
The Shrine Clowns will be attending to entertain the kids. "We're trying to make it a destination place," Dennis said.
Expectations of Flea Market's Growth
"We would like to regularly see 200 vendors and grow it as big as any of the locally large flea markets in the area. Our goal is to establish this as a continuous fundraiser for the Syria Temple."
The Shriners in Pittsburgh have long held antiques and craft shows at both the old Syria Mosque in Oakland and the new Pittsburgh Shrine Center in Cheswick. The old will soon feel new again in more ways than one!
Dennis was quick to mention the great help that he has received in his effort to reestablish the Shrine as a go-to destination for flea market fans. "Joe Micikas and John Handshue have been very helpful, and of course Peg McKillop has been very helpful. There are many that are working hard to help make this event come together," he said.
Supporting the Shriners Supports Shriners Hospitals
Dennis hopes that you'll stop by to browse or reserve a booth to sell your wares in support of the Syria Shrine, and by doing so, help us support the Shriner's Hospitals for Children.
"The focus is on helping the Temple, and the Temple supports the hospital system," Dennis said. "That is why we exist. We persevere to keep our hospitals open and make sure that children get the best possible care they can get. The fact is that we take care of any child in need. People must realize the most well-kept secret is that our hospitals are out there helping kids, and that is why is we support them."
So come on out every FIRST Sunday through October and give us a look! We're putting our best foot forward and were open to suggestions. Please let us know how we can improve our event to suit you. The plan is to ask each vendor every Sunday what they think of the event and collect feedback on ways to make this the best flea market it can be.
*If paying for the full season up front, you'll receive a discounted price of $100 for five (5) months Rain or Shine, "No Refunds." Full Season prepaid will guarantee your space each month. Returning vendors desiring their same space as last year, must let us know when making their reservations. Month-to-Month vendor spaces are $25 per month, Rain or Shine, "No Refunds." You're not guaranteed the same space each month, but we will try to accommodate you.
For more information on how you can schedule your next special event at The Pittsburgh Shrine Center, please contact Paulette Zanotti at pzanotti@syriashriners.org or at 724-274-7000.